Superior Gear Durability

Through Industry-Leading Design and Manufacturing Technology
INFINITY XROSS
Advancements in manufacturing technology and gear tooth design improve the surface contact and meshing between the drive gear and pinion gear. This revolutionary design efficiently distributes the load placed on the gear tooth surface across a wider area to prevent damage from stress points while significantly improving overall gear durability.
The durability is doubled by distributing the load over a greater surface area.
Exceptional Casting Performance Delivered by

Drastically Reducing Friction on the Line Leaving the Spool
INFINITY LOOP
Advancements in the internal structure and design extend the spool's oscillation to enable the spool to move up and down at an extremely low speed. This technology creates a precise winding pattern with less overlap that significantly reduces friction as the line leaves the spool during a cast. The result is smooth and exceptional casting performance, especially of light lures.
Cranking Power

to Win the Fight
INFINITY DRIVE
The Infinity Drive structure is a more advanced version of the conventional X-SHIP structure that created exceptionally light winding. The main shaft, which had previously been supported by the pinion gear, is now supported by a new and unique low-friction bushing that significantly decreases frictional resistance. In addition, the main shaft has undergone a proprietary surface treatment and special processing to drastically reduce rotational torque, constructing a reel that can actively wind even under heavy loads.
Enhanced Line Management

for More Effective Fishing
ANTI TWIST FIN
The flexible polymer fin is installed near the line roller. This maintains line tension to reduce sagging and prevents the line from falling off the bottom of the spool or wrapping around the spool in an uneven manner.
Smooth and Reliable Drag Performance

with Incredible Durability
DURA CROSS
Constructed to enhance overall durability, this revolutionary drag washer incorporates cutting-edge materials woven in a unique pattern compared to conventional drag washers. Without sacrificing a smooth drag feel, this new material is greater than 10x more durable for improved drag performance.
Propulsion Line Management System
The most obvious component of the Propulsion Line Management System is the new Propulsion Spool Lip design. Through tens of thousands of casting tests and computer simulations, Shimano's new spool lip design provides longer casting distances than a standard spool lip design while also preventing backlashes and wind knots from forming.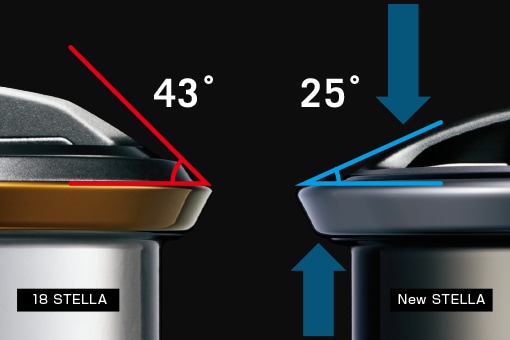 Model

Inches Per Crank

Gear Ratio
Mono Line Capacity (lb/yds)
PowerPro Line Capacity (lb/yds)
Max Drag (lbs)
Ball Bearings
Weight (oz)
STL1000FK

25"

5.1:1

2/270

4/160

6/110

10/95

15/75

20/65

7lbs

12+1


5.8oz

STL2500HGFK

34"

5.8:1

8/140

10/120

10/150

15/145

30/100

20lbs

12+1

7.4oz

STLC3000XGFK

37"

6.4:1

6/230

8/170

10/140

10/200

20/140

40/105

20lbs

12+1

7.4oz

STL4000XGFK

40"

6.2:1

10/200

12/160

15/230

30/180

50/120

24lbs

12+1

9.2oz

STLC5000XGFK

40"

6.2:1

12/195

14/165

20/260

30/235

40/185

24lbs

12+1

9.2oz